2020 MARKET SNAPSHOT AND 2021 MARKET FORECAST
2020 has been a particularly challenging and complicated year for many of us.
My thoughts are with all those who have been affected and I wish you and your family healthy and rewarding times ahead.
What has 2020 meant for the Costa del Sol Property market?
And what does the future hold in 2021?
The Costa del Sol Market Snapshot is now available for you to download free of charge.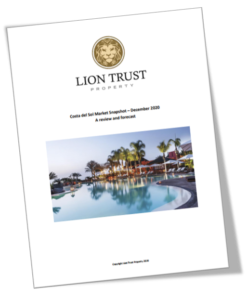 The report amongst other things covers:
A review of 2020
Ongoing market trends
Challenges for Buyers in 2021
Looking into the crystal ball…
A window of opportunity for buyers
This document is a summary of my current views, opinions and observations of the local property market based on my experience of living and working on the coast for 17 years. It is aimed to assist those genuinely seeking to buy their dream property in 2021 on the Costa del Sol by making you aware of certain market dynamics, the challenges that property buyers need to overcome and the opportunities that exist.
You can download the report free of charge by completing the form and what's more I will keep you aware of future updates.
I hope you find it of value and welcome any feedback.
To your success,
Anthony Fernandes
Director, Lion Trust Property
FREE DOWNLOAD
2020 Market Snapshot and 2021 Market Forecast