Kindly confirm your interest to continue to receive property related information and opportunities from Lion Trust Property
We realise that you have received property related information from us for some time now, but after this Friday (25th May 2018) you will no longer receive emails from Lion Trust Property unless you proactively opt in to receiving our communications.

I have lots more valuable property related information to share with you, BUT YOU NEED TO CONFIRM YOUR INTEREST BY COMPLETING THE EASY FORM -------->
You can review our Terms & Conditions and Privacy Policy by clicking the links. Also every email offers you the opportunity to unsubscribe at any time should you no longer wish to receive emails from us. 
Confirm Your Continued Interest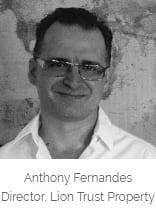 Thank you for being a valued subscriber. I trust you ind the information we have sent you over the years has been of interest, but in order to stay in touch, new European regulations coming into effect state that you have to reconfirm your interest proactively.
Please fill out the form above to stay in touch.
Best regards,
Anthony