Day 19/15 – Thursday 2nd April –15 days of Spanish lock down
Usually if I start talking about the weather, it's because I am either being polite or, have nothing else to say.  However, on this occasion I have to tell you we had a really strange day...
At this time of year, we would usually expect sunny days - perfect golfing temperatures of 16-22 degrees Celsius. I can't wait to get back out and walk the golf course.  I don't think our course at Guadalmina has ever had this much rest. There are around 1,500 playing members that are broadly split into three groups:
1) a core group, both Spanish and internationals who live on the coast and play all year round
2) a northern European / Scandinavian group who are here for the Winter and Spring months – October until May and finally,
3) the crowd from Madrid and the north of Spain who have holiday homes around Guadalmina and Marbella who visit for Easter and Summer
It makes for an interesting mix and means you get to meet lots of different people throughout the year.
The Club itself is going through a significant change at the moment.  The membership are in the process of acquiring shares owned by the administrator of Martinsa Fadesa.Fadesa developed much of the property around Guadalmina and until this point were largest shareholder in the club.  It will mean moving forward that members will have control of the club which has to be a good thing.
As a club, Guadalmina or, 'Real Club de Golf Guadalmina' has fantastic facilities and is one of the most children friendly clubs on the Costa del Sol.  There are two 18 hole golf courses, one par 3 course, a 20m outdoor swimming pool, paddle court, tennis court and soon to be a croquet 'pitch' – if that is indeed the right term.  I believe this decision was made for number of reasons,  By having an additional 'sport' the club can be categorised as a 'sports club' rather than a golf club and as such doesn't attract IVA (VAT) which is currently paid on green fees and subs at 10%.  Further, it is believed it will be a very social pastime and apparently will attract sponsors.  Finally, it will appeal to members who perhaps are in the last chapter of their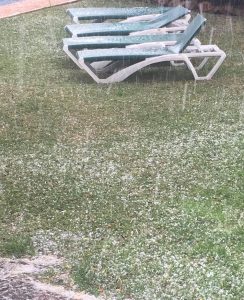 golfing lives but want to retain a sporting interest and membership in the club.
Back to the weather - this whole lock down period has coincided with a very unsettled spell. Today started out promising enough but then the clouds came in a we had heavy rain for a couple of hours. It was a day of April shows, intermittent warm sun, one thunderstorm and then HAIL!!!  It's a rare occurrence here for sure.
For perhaps three minutes the temperature dropped significantly and then down came the ice – the size of pearls!  It was astonishing enough to have two teenagers put down their phones and lap tops
and marvel at the window at the sight!  That's a miracle in itself!!!
Keep safe,
Anthony