Day 4/15 – Wednesday 18th March –15 days of Spanish lock down
Well I didn't leave the house at all – all day!
I can't remember the last time that happened – even when I have been unwell.
I have tried to adopt a 'business as usual mentality' – focus on the positives and what I can do to stay in touch with people, add value, listen and share.
Our home internet has been playing up these last days, cutting out for 1-3 hours a day. That's all we need!
My sons Jonah and Noah are due to have their A-levels in May and June. It all up in the air at the moment as to whether exams will take place. There is talk of delaying until September which is really not very appealing to them. I'm really impressed by their focus and keeping to their daily school time table even though they are at home. For them, their concern is whether their post-school graduation holiday which they have planned and already booked with their best mates will go ahead – three days in Amsterdam and 4 days Mikonos! I can't believe how they got that one past mum!!!!
Majic our wonderful dog looks thoroughly bored! I've tried explaining the situation to her but she still rushes to the door and sits down as soon as anyone gets up!!!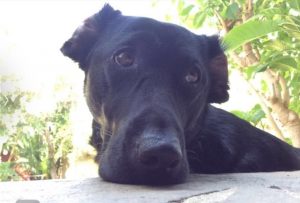 Still, we have it better than most – we feel safe, have some supplies, plenty to get on with and we have each other.
Keep safe and Keep in touch.
It's nice to hear what's really going on in different places – not just what the media is feeding us.
Best,
Anthony