An opportunity to discover more and have your questions answered
A pragmatic "Discovery Consultation" for the person who is thinking of buying a property on the Costa del Sol and are starting out, or are in the early stages of their journey.  It is ideal for people who need to understand more about what the different areas of the Costa del Sol offer, the types of property available and what would is likely to fit the lifestyle they are looking to create for themselves.
The consultation is usually conducted over the telephone, unless you are here in Spain and would like to meet in person.
As a result of the call, you will have a clearer understanding the geographic locations, which areas are most likely to suit you, your desired lifestyle and that fit to the financial parameters that you set.  Thereafter, you'll be a strong position to start searching for a property.   Further you will have all your questions answered about the buying process and associated costs. Simply put, you'll  be in a better position to decide whether buying a property on the Costa del Sol is right for you and if so, where.
What we accomplish together over this discovery consultation is as follows:
- Identify geographic locations and specific areas that will fit for your desired lifestyle
- Discuss the buying process and associated costs
- Create a crystal clear picture of your ideal property and requirements
- Clarify current market conditions and address any specific questions that you have
- Establish whether we're the right company to assist you meet your objectives
There is no obligation on either party as a result of the discovery consultation.  If we are not a good match for each other, we'll both know it.  If that's the case, I'll try to point you in the direction of someone who can help you.
It is sure to be a valuable conversation for you whether we do business in the future or not.  At the end of the session you will receive a summary document which covers what we have discussed. I am convinced you will learn more in 30 minutes talking with me about the market in Southern Spain, than you will do researching yourself, or talking with most other agents for a month!  It will be a valuable conversation for you whether we do business or not.
There is no charge for the call, but please be advised that the call is usually limited to 30 minutes in the first instance. The consultation will take place typically within 3-5 days of you requesting a call.
To secure a time for a fact find call, please call us on +34 952 781000 or
+44 208 0900 858 or, email us at info@liontrustspain.com and we will advise you regarding available time slots.
Request a
Discovery Consultation

You will be sent the full 2018 Market snapshot and Buyer's Critical Success Factors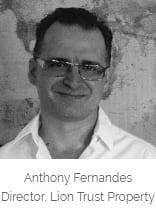 I have lived in Marbella since 2003 and have bought and sold several properties myself.  
Lion Trust Property has developed a unique proven system, for you to secure your ideal property on the Costa del Sol,
- at the best possible price.
- to help you create the ongoing lifestyle you desire.
- with the least time, effort and stress for you.