Know what you want, learn exactly how to get it
You know the coast, you know the locations that you like, maybe the urbanisation, street or even the actual property!
The objective of this 15 mins call is that we have a clear understanding of what it is you are looking for.  If you are at this stage of your journey you've possibly seen dozens of properties that don't match your requirements.  As a result of this call and the unique process employed, we will be in a position to only show you properties that could work for you.  I don't want to waste your time, or mine. Lion Trust Property prides itself in being able to source off market property that matches our clients´ requirements. 
What we accomplish together over this fast-paced no nonsense session is:
- Create a crystal clear picture of your ideal property
- Identify your priorities, criteria you are not prepared to compromise on
- Have an open discussion on budget, financing and timescales.     
Remember,  if we agree to work together my objective is to get you the best deal possible.
- Cover any other specific points you would like to discuss
- Establish whether we are the right company to help you achieve your
  objectives.
There is no obligation on either party as a result of this call.  If we are not a good match for each other, we'll both know it.  If that's the case, I'll try to point you in the direction of someone who can help you.
It will be a valuable conversation for you whether we do business in the future or not.  At the end of the session you will receive a summary document which covers what we have discussed.  The call will take place typically within 5 days of you requesting a call.
To secure a time for a fact find call, please call us on +34 952 781000 or
+44 208 0900 858 or, email us at info@liontrustspain.com and we will advise you regarding available time slots.
Request a
Laser Focused Fact Find Call

You will be sent the full 2018 Market snapshot and Buyer's Critical Success Factors
Get you free copy of the Market Snapshot Report with 2018 Buyer's Critical Success Factors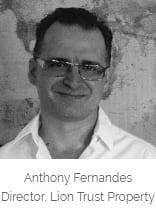 I have lived in Marbella since 2003 and have bought and sold several properties myself.  
Lion Trust Property has developed a unique proven system, for you to secure your ideal property on the Costa del Sol,
- at the best possible price.
- to help you create the ongoing lifestyle you desire.
- with the least time, effort and stress for you.