Thanks for your interest in the Costa del Sol
Kindly confirm your interest to receive information from me on property on the Costa del Sol
Lion Trust Property primary business focus is now property on the Costa del Sol. It is where the business started and it is our back yard so we know it well.
If this is of interest to you, I will be pleased to share information with you that I have learned over the past 15 years. Due to new European legislation, I need you to confirm your interest.
These are the sort of things you can expect to hear from us about:
- A market snapshot report - my view of the current market.
- You'll learn the 5 challenges all Costa del Sol buyers have to overcome
- You'll discover the 7 critical success factors for Costa del Sol property buyers.
I'll give you some options of how we might work together.  Further I'll share some anecdotes which I trust you will find of interest and local market information on an periodic basis.  You know I am not big on sending out general property related offers and I like you to receive specific things that are of specific interest to you. However you might get the occasional more general offer.
Please fill out the form to confirm your interest in receiving such information from me.
You can review our Terms & Conditions and Privacy Policy by clicking the links. Also every email offers you the opportunity to unsubscribe at any time should you no longer wish to receive emails from us. 
Confirm Your Interest

You will be sent the 2018 Costa del Sol Market snapshot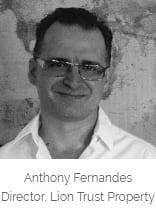 I have lived in Marbella since 2003 and have bought and sold several properties myself.  
Lion Trust Property has developed a unique proven system, for you to secure your ideal property on the Costa del Sol,
- at the best possible price.
- to help you create the ongoing lifestyle you desire.
- with the least time, effort and stress for you.