The story of the purple gloves…
Certainly in the short term we are going to be required to wear masks, gloves and also bootie shoe coverings when we do property viewings. It's for everyone's protection of course and out of respect for property owners.
In addition to the protection, the booties will keep properties nice and clean. It's perhaps something I will continue to do moving forward.
I have masks - a bundle kindly donated by one of the forward thinking property developers and booties bought at the hardware store. But plastic disposable gloves are in short supply - can't get them anywhere for love nor money! Someone tipped me off that Mercadona supermarkets have a limited supply each day.
So on Monday, Tuesday and Wednesday this week I have been at Mercadona every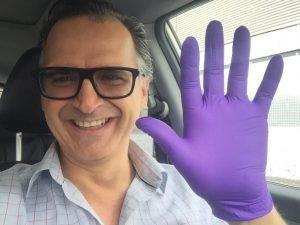 morning at 0900 for opening with the hope of buying a box of protective, single use, latex gloves. Apparently each store gets a limited supply, but they had received no deliveries.
This morning I was running slightly late and got to the store at 0915. They sold 47 boxes in 15 minutes with only one box being permitted to be sold to each customer! Fortunately the lady on the checkout recognized me and gave me the very last box they had. I didn't risk asking her what the colour they were!! 
So now I am ready!!! All we need now is for Malaga Province to pass to Phase 1.
Announcement to be made on Friday evening ????????