Day 43/15 – Sunday 26th April –15 days of Spanish lock down
One of our friends who lives in a beautiful villa on the Golden Mile (in the Marbella Club) was up early and took immediate advantage of the lift in restrictions.  She went walking along the passeo in Marbella for 7.5km round trip with her daughter.  Surprisingly she said there was hardly anyone about, but it was early and a Sunday morning.
The 'passeo maritimo' is the walkway behind the beaches of towns along the coast. Some years ago the 'coastal pathway' project – 'Senda literal de Malaga' was launched. Its objective to connect the passeo maritimos with a boardwalk that eventually would stretch the coast from Nerja in the East (other side of Malaga) to Castillo de la Duquesa – some 160km.
It's an ambitious project and is well underway, with some 65%+ of the coast being connected.Click here to see the official progress of the project. It's already a major attraction for the Costa del Sol for both residents and visitors. It's perfect for walking and cycling along the beach giving additional access to the many beach bars and restaurants along the coast.
The project is not without challenges as it passes through land of several local authorities and has several environmental considerations to be taken into account. One such example is in the area of Artola Dunes, near Cabo Pino a protected dune area. The clever implementation of the wooden boardwalk deck has revived the local flora, which was under pressure from the volume of people trampling on them en-route to the beach.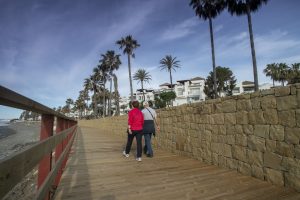 There is no question that the coast pathway is a major attraction and consideration when buyers are considering where to purchase beachside property.  It why the stretch of urbanisations including Alcazaba Beach, Los Granados del Mar, Bahia de la Plata and Mar Azul to the east of Estepona town are so popular as it's just a short walk to Estepona town along the beach.
Further news good news was announced by Pedro Sanchez this weekend that people in Spain will be able to go out for walks and do individual outdoor sport from 2 May, providing the cases continue to fall. 
Hopefully, that means GOLF!!!
Keep safe,
Anthony