Day 44/15 – Monday 27th April –15 days of Spanish lock down
The kitchen has been my office for the past three weeks. I get the natural traffic of teenagers back and forth throughout the day. I could in fact now go to my office in San Pedro town - only issue being the whole block has been without power for the past several days! The insurance is arranging electrician to put in an entire new installation.
Next challenge to resolve is my car battery. I mentioned to you previously that the new battery is flat (the alarm is head splitting when I jump start it) and the main garage is still closed. I will make that work that to my advantage and actually walk 15 minutes to the office as soon as there is electricity.
The two main airports that service the Costa del Sol are of course Malaga and Gibraltar. Most people, particularly those visiting the east of Estepona tend to use Malaga where there are more frequent flights. Gibraltar offers an alternative, particularly convenient for those living to the west of Estepona. You have to factor in crossing the border and decide where to park your car. More on that in a moment.
Following a golf day we were involved in organising for Nena Paine children's charity at the Marbella Club - hidden in the hills behind Benahavis, Eamon and I were off to UK for a pro-am competition at the salubrious London Club.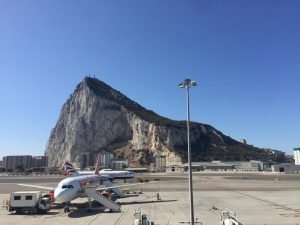 He convinced me that Gibraltar would be quick and convenient - less crowded than Malaga airport. I hadn't flown in or out of Gibraltar for several years. He was right, it ran like clockwork. In UK, we enjoyed three rounds playing the two fantastic championship heathland courses, set in Kent's countryside and then watched the senior pros, showing us how it is supposed to be done.
It's quite an experience landing back in Gibraltar on the what seems to be a precariously short landing strip, with the Mediterranean looming at the end of the runway.
I had selected a local parking in La Linea just a five minutes walk from the border, rather than the airport parking itself, as at the time there were long queues. They also had bill boards advertising very competitive daily rates. Eamon waited at the border with all our kit, while I went off to collect the car. My first shock was the 150 Euros bill for the three days! Apparently in the small print says if you want to benefit from the advertised 7 Euros a day rate, you need to pay upfront at the cashiers within 20 mins of parking your car. It was sharp practice at best, to catch out those with their mind on other things when embarking on a trip. I disputed intensely the integrity of this practice with the attendant who explained it was way beyond his pay grade to do anything about it. Most unimpressed, I decided to cut my losses and not allow this event to spoil a super trip.
On zapping the remote, the hazard lights didn't react – my battery was flat! Cap in hand I returned to the attendant asking for assistance for a jump start. Good job I hadn't lost it with him earlier! He was in fact most helpful, but his small car just didn't have the power to get mine started!
After some time the roadside assistance arrived, which in itself is fodder for a comedy sketch as he couldn't get his truck into the underground parking! Eventually he got my car started and finally some four hours after landing in Gibraltar we arrive back in San Pedro - usually a mere 45 minutes journey!
Morel of the story - if you fly from Gibraltar, park your car in the airport parking and don't leave the phone charger plugged into the cigarette lighter..!
Best regards,
Anthony