Day 27/15 – Friday 10th April –15 days of Spanish lock down
Finally I was able to open all the doors of the house and let the air flow through.  We had a well needed day of blue skies and sunny spells.
Due to the fine weather, apart from a couple of hours in the morning, my laptop remained firmly off – that's the first time in a while that I have managed that.
It was a holiday in Spain, not that you would notice the difference! The quiet remains with the exception of the birds chirping and the occasional police siren heard in the distance. I spent most of my day outside pottering about, started clearing out a shed and have more to do on Saturday.
It's perfect weather to be out for a walk in the hills behind Marbella. There are some wonderful mountain trails suitable to all levels of fitness. On one end of the scale you can hike all the way up to the top of La Concha, mountain which gives Marbella its unique backdrop and is partly responsible for the micro climate we are blessed with. You can start your assent from either Istan, or from Refugio de Junar. It takes anything from two to four hours to reach the summit and the views are quite spectacular. On the other end of the spectrum is the 30 minutes walk from the Refugio through the enchanting mountain olive groves to a fabulous viewing point behind Marbella – this is one of my favourite get aways. Even in peak summer when the coast is bustling with holiday makers and tourists, there is a peace and tranquillity.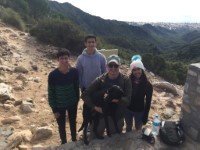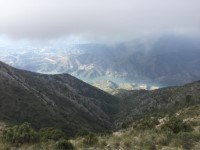 If you go early enough in the morning, you might be lucky enough to encounter the mountain goats.  Usually they take refuge away from walkers on the steep rocky inclines under the camouflage of the bushes and forna.
Take a look at the photo and let me know which mountain goat isn't real…!
If I had my way, that is where I would be heading tomorrow, but the only place I will be going is my garden to continue clearing the shed!
Keep safe,
Anthony